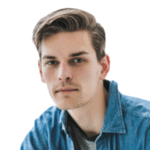 Hello everyone! Former IELTS examiner Tim James here (pictured), and on this page I am going to show you exactly how to do IELTS Academic Writing Task 1. Here's what to do:
Firstly, analyse the question and visual data, and then plan your answer. Secondly, write an introduction paraphrasing the title of the visual data. Thirdly, write an overview paragraph. Next, add two details paragraphs before finally checking your answer.
This is the exact same method I have personally taught time and again to international students around the world and so I know it works!
Now, let's get started right away by saying the IELTS Academic Task 1 is very different to the General IELTS test. Candidates need to summarise visual data into a minimum of 150 words.
The visual data may appear as any of the following: line graphs, bar charts, pie charts, tables, maps, or flow diagrams. Sometimes you may have more than one of these to summarise.
I recommend that you spend 20 minutes on task 1 which leaves you with 40 mins to complete the essay task afterwards.
This page is now going to cover: