IELTS Reading Skills For Band 7, 8 and 9
Check out my super awesome explanation of the IELTS reading skills you need to succeed in the video below, or read the text under the video.
There are 3 key skills for scoring a high band in the IELTS reading test. They are:
Skimming – This means quickly reading main features such as, topic sentences, headings, sub headings and generally brushing your eye over a text for any other striking key words, phrases, sentences and bullet points.
This gives you an idea of where different key information is located in a text, this is very helpful when it comes to locating the answers to questions rapidly.
Scanning – This is when you quickly look over a text for a specific item. This could be a:
♦ number, such as the value of something ($12.99),
♦ a name, perhaps of an inventor (Henry Ford),
♦ a year, when a business was established (1980),
♦ the date of an important event (9/11),
♦ the time that an event is going to end (2 pm),
♦ the name of an historic place (Trafalgar square) and so on.
These are often the easiest and quickest answers to pick out, especially if you already know from skimming which part of the text they are likely to be in.
Intensive Reading – This is when you read a section of a text very carefully to completely understand what it is saying. This is normally done once you have skimmed or scanned an article to find the whereabouts of the correct answer.
Notice I said 'a section of text', you do not read all of the article in the IELTS test intensively, you would run out of time!
How To Prepare For The IELTS Reading Test Without Going Mad!
Firstly, just sit down and take a practice test, choose one from the links below and make sure you do it under timed conditions with no help. Mark your paper and see what score you got. All the inks provided will be able to tell you your band score from your test result. 
Also, make sure you don't cheat by giving yourself a mark when you spell something incorrectly, you will only be kidding yourself, the examiners on test day will not give you those marks so neither should you!
Secondly, if it is not the band core you need then you need to take a closer look at your practice paper. Have a look and see what question types you got wrong. Is there a particular type of question that you could not quite do?
Often, you can easily identify a particular question type that you are struggling with. This is actually good news because what you can do is learn the step by step strategy that I have given you on this page and try using that strategy a few times with a different set of questions. 
You don't need to do it under tied conditions yet, wait until you are comfortable with the strategy, or modify it to a strategy that you are comfortable with. Then, have another go at a full paper and see what your score is, hopefully it will be the score you need.
If it is still not at the band score you need then it's time to get serious. After you have done everything you can to improve your technique the only option you have left is to improve your actual level of English. 
Generally, this takes longer but is the best method overall, crucial to this really though is time. Ideally, you would have started preparing for your IELTS tests months (or even years) in advance. In which case the solution is simple. Start reading in English for extended periods of time each day.  
You can read anything you want, books, news articles, comics even, read something you are interested in because then you will be more likely to keep doing it. Make sure you keep some sort of vocabulary journal for noting down new words and make sure you read my guide on how to learn vocabulary here.
Learning vocabulary is key to not only the IELTS reading test but also to the listening section too. The reason being is because they use a lot of synonyms (different words with the same meaning) in the test articles and questions. 
So, read every day and work on your vocabulary. Don't just do an endless series of past papers, that will make you really bored. In fact, I have seen students get really angry and frustrated at IELTS because they feel trapped by the IELTS system. 
Remember, IELTS is just a test. It is not a perfect test but it is reasonably accurate at getting your true level of English as there are no real short cuts, tricks or cheats for the test. This is a good thing because it rewards those who actually focus on improving their English.
Now you know that, be encouraged by that and commit to reading as often as you can the types of articles and books that you enjoy. Then, when you are ready, go over the strategies I have given you for each question type and try the test again.
Hopefully, you will now be much closer to your goal. In which case you might be ready to go ahead and book your IELTS test. Ideally, you would do three practice tests and get the score you need to succeed before you book your test, this will mean that you should also get that score on test day and prevent you from wasting money on having to repeat the test again.
If you are still struggling then you might want to use the services of a professional IELTS examiner/service where you can get feedback on what exactly you are doing wrong. This is the service that I recommend you use - they give great feedback and have thousands of candidates get the score they need. 
Ok, so I hope you have found this section useful. Here are some useful links below. 
IELTS Reading Practice Tests
IELTS Writing Task 1 (Academic)
Discover how to describe all types of visual data that you may see in this part of the test.

Sshhhhh! Listen closely, here are some valuable tips, techniques and strategies for maximising your listening band score.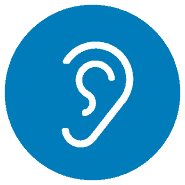 IELTS Writing Task 1 (General)
Discover how to write in the correct format and tone for this part of the test.

Learn 'what' to say and 'how' to say it in each part of the test to impress the examiner.