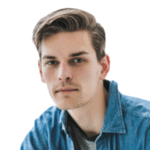 Hey there! This is former IELTS examiner Tim James here, and I am going to cover how to do the IELTS speaking test to score a band 7, 8, or 9. Here's what you need to do:
In part 1 you will answer questions about your daily life remembering to expand on your answers. In part 2, you will speak on your own for 2 minutes about a given topic card. Finally, in part 3 you will have a discussion with the examiner about a related topic . This will all take between 11-14 minutes.
Obviously, each part of the test requires different strategies. So, on this page I am going to teach you the exact same strategies I have taught to thousands of students around the world and that I know work from my experience of being an IELTS examiner.
This page is going to cover: