Over 250+ IELTS Essay Questions
Below is a database of over 250+ IELTS essay questions for you to practice with. They are all realistic IELTS essay writing task 2 questions, based on previously reported topics and question types. For recent 2018 questions and band 9 model answers it is highly recommended that you download the document using the form at the top of the page.
As the same common topic areas  come up time and time again in the test, it makes sense to focus your practice around these topics. This is why I have organised the essay database via topic area.
Within each topic area you can then also select which type of essay question you then wish to answer. For an explanation of the different question types I recommend you read this article first, as different teachers categorise question differently.
The key, however, is to get used to answering the different question types, develop a range of vocabulary and collocation around these topic areas, and to formulate a variety of opinions around these common topics in advance of the test. These questions will certainly help you do that.
The more practice you get the better, so why not get started today! Why not also 'like' or 'share' this page to help friends and so that you can find it again more easily in the future. If you have any questions please let me know: ieltsfreeway@gmail.com
Get Your IELTS 'Cheat Sheet' Here!
Discover how to write a band 7+ essay quickly and easily!

We value your privacy!
IELTS Writing Task 1 (Academic)
Discover how to describe all types of visual data that you may see in this part of the test.

Sshhhhh! Listen closely, here are some valuable tips, techniques and strategies for maximising your listening band score.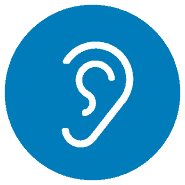 IELTS Writing Task 1 (General)
Discover how to write in the correct format and tone for this part of the test.

Learn 'what' to say and 'how' to say it in each part of the test to impress the examiner.