This page gives and overview and introduction to the entire IELTS test. The diagram below is a summary of the test: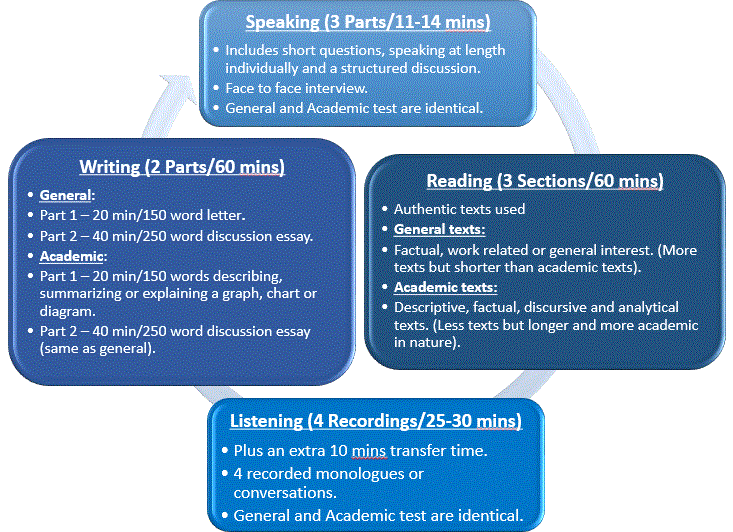 (Click image to enlarge)
---
You can skip straight to introductions to the following sections of the exam here:
How To Do The  IELTS Speaking Test
How To Do The IELTS Listening Test
How To Do The IELTS Reading Test
How To Do The IELTS Writing Test
General Information
The 'International English Language Testing System' or IELTS for short, is one of the world's most reliable language testing systems.
That is why universities, businesses and immigration departments worldwide take your test result so seriously.
The ability to communicate well in English is highly valued in today's globalised world and IELTS is the way to prove that you can do so.
It tests all 4 English language skills (reading, writing, listening and speaking) and provides an accurate way of measuring your overall English language ability that is widely recognized around the world.
No wonder it is taken by over 2.5 million people each year!
---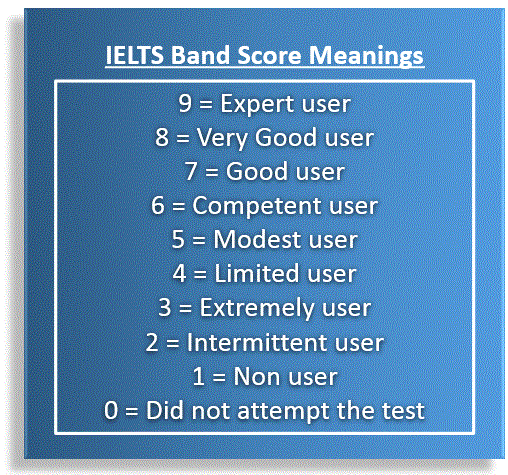 (Click image to enlarge)
---
IELTS Assessment Criteria
Anyone taking the IELTS exam will be given an overall band grade between 1 and 9, as shown in the illustration above.
Writing is assessed against 4 main criteria:
♦   Lexical resource (vocabulary)
♦   Grammar range and accuracy
♦   Task Achievement
♦   Coherence
For listening and reading tasks there are 40 marks for each section, and speaking is assessed against the following criteria:
♦   Pronunciation
♦   Grammatical range and accuracy
♦   Lexical resource
♦   Fluency and Coherence
Each language skill (reading, writing, listening and speaking) has equal weighting, so if you score a 6 for each skill, that would be your overall band score.
If you scored: a 5.5 for listening and speaking, and then a 6 for both reading and writing, your overall average would then be: 5.75.
This number is then rounded up to a band 6. Scores are always rounded up to the nearest .5 of a grade band, so a 5.25 would be rounded up to a 5.5, but a 5.1 would be rounded down to a 5.0 grade band.
All the assessment official assessment criteria can be downloaded here. Focusing on the band criteria for bands 5, 6 and 7 and the differences between them is a sensible place to start:
---
IELTS Strategies
On this web-site you will only find advice and information that has come from extremely reliable resources, and by that I mean the British Council, Cambridge ESOL and IDP Australia, as they actually own the exam! And of course my own ideas from over 10 years teaching IELTS!
Here are a few pointers:
Start preparing early for the exam. Many people underestimate just how difficult it is to get a particular band score and they may need time to improve their English or learn correct exam technique.
Many students will need to take it more than once, this is normal. This can be a real problem though if you have a deadline for your visa, university or job application!
Make sure you become familiar with the exam format and the different types of questions. This will make you more confident on the day and prevent you from misunderstanding what you need to do.
Get involved with the news. Many of the topics that come up time and time again (see a list of common topics here) are covered on a daily basis in the news. Therefore it makes sense to read read, listen and discuss the news as often as possible. The BBC is an obvious place to start, they even have a Learning English section too.
Learn English, this sounds obvious but often people think they can just learn how to do the exam and they will get the score they need. This may be true if your English is already very good, however, for most people if they are one or two band scores lower than they need to be, first they will need to improve their overall English before they can increase their band score.
Learn vocabulary in context. Having a wide range of vocabulary is crucial to getting high bands cores in IELTS. However it is not just knowing a list of long words that is important. You need to be able to use them correctly in the right form and at the right time.
The way to do this is to see those words being used 'in action', like in the newspapers, books, films and so on. You will then have a much better idea of what the word means and how to use than if you just learned definitions of words.
The same is true for listening. Look for short videos with transcripts attached so that you can check your understanding afterwards and look up new words. Regular listening practice is the key. Sites like Ted.ed are great for this as they cover relevant topics.
And finally. don't give up! Learning a language takes time, put in the effort to improve your English language skills AND your knowledge of effective IELTS exam technique (which this site aims to do) and you will get the bad score you desire.
IELTS Writing Task 1 (Academic)
Discover how to describe all types of visual data that you may see in this part of the test.

Sshhhhh! Listen closely, here are some valuable tips, techniques and strategies for maximising your listening band score.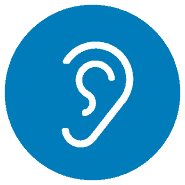 IELTS Writing Task 1 (General)
Discover how to write in the correct format and tone for this part of the test.

Learn 'what' to say and 'how' to say it in each part of the test to impress the examiner.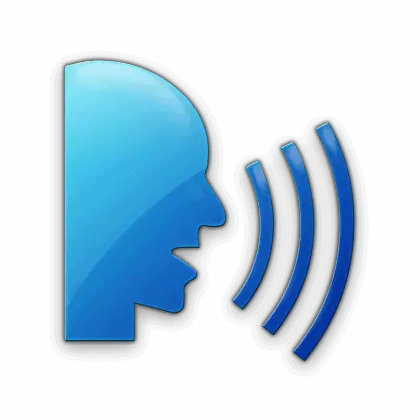 "Step Closer To Your Dreams - Grab The IELTS Writing Task 2 Cheat Sheet Today!"
Tired of wasting time and money trying to write a band 7 essay? Then let the 'Cheat Sheet' do the work!
We value your privacy and would never spam you
Opinion essay structure
Step-by-step instructions
Common topic areas
Practice questions
Sentence by sentence guide
The 6 Golden rules for success